The Basics
The main ingredients used in our creamy, dairy-based pops are milk and sugar, or yogurt, milk and sugar. We use local milk from The Farmer's Cow (Lebanon, CT). You can check them out at: http://www.thefarmerscow.com
Found in our non-dairy, fruity pops are water and sugar. These bases are mixed with whatever fruit or flavors are found in the title– it's as simple and as healthy as that. We use a lot of delicious fruit from local Connecticut farms. No artificial flavors, additives or coloring! We try to use as many local and organic ingredients as possible.
The "sugar" that is used in our pops could refer to a variety of types– simple syrup, agave, honey, and various types of cane sugars, as seen in the photo below. We use 100% organic and fair trade cane sugar (organic evaporated cane juice), and local honey from Vincent Kay– Beekeeper, New Haven, CT. Additionally, we use Wholesome agave nectar… nothing artificial, ever. Whichever sugar type we think will combine the best with the ingredients in each pop is what we use– we do whatever we can to create the most perfect pop for you!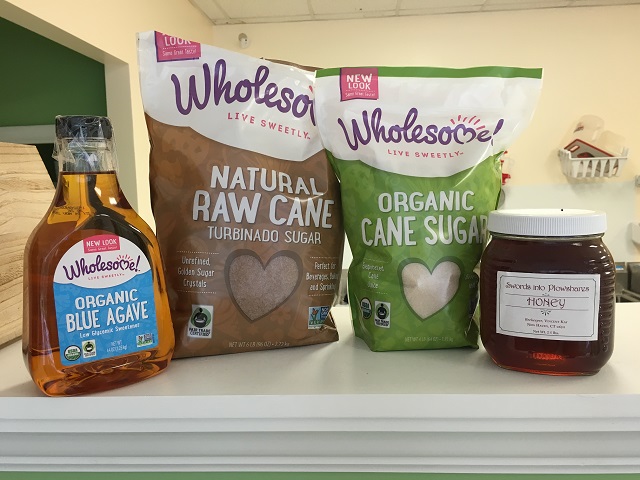 We make all of our pops in small batches to ensure you are getting the most perfect, mouthwatering taste!
Some pops are even enhanced with a cookie crumble; you can find this on pops like Key Lime Pie and Apple Pie (seasonal). Similarly, some of our pops like our Banana Puddin' have granola frozen within!
The pops listed below are considered our "regulars"– these are pops that you can find in store, at farmer's markets, and at other events we attend. However, these aren't our only flavors– our Pops change based on what's fresh, what sounds good, and what inspires us that week. Please check social media (Facebook, Instagram @popcentric) for updates on most recent flavors, or come by our store!
If you have severe allergies, please skip us, as we do use the same popsicle molds and tools for everything. We wash and sanitize all materials between flavor changes.
Banana Puddin': Milk, bananas, yogurt, honey, cream.
Blueberry Lemonade: Blueberries, lemonade, water, sugar.
Blood Orange Creamsicle: Blood orange juice, milk, yogurt, sugar.
Caramel Macchiato: Milk, coffee, cream, caramel.
Mango Carrot Orange: Carrots, mango, 100% orange juice concentrate, water, sugar.
Coconut Avocado: Coconut milk or local farmers' cow milk, avocado, coconut, sugar.
Coffee Oreo: Coffee, oreos, milk, sugar, cream.
Fruit Salad: Mixed fruit, grapefruit juice, water, sugar.
Fig, Honey & Goat Cheese: Milk, Greek yogurt, Goat cheese, figs, honey.
Matcha: Milk, cream, sugar, matcha green tea powder.
Hibiscus Lime: Water, lime juice and zest, sugar, hibiscus flowers.
Key Lime Pie: Greek yogurt, milk, sugar, Key lime juice and zest, graham cracker crumble.
Raspberry Lime: Raspberries, lime juice, water, sugar.
Raspberry Mango: Raspberry, mango, water, sugar.
Strawberry Lemonade: Lemonade, strawberries, sugar.
Boozy Pops (Adults Only!)
Caramel Bourbon Latte
Watermelon Mojito
White Sangria (peach, pineapple & mango)
Red Sangria (mixed berries)
We also feature boozy pops with beer flavors from the local Two Roads Brewing Co. (Stratford, CT) including:
Two Roads Road Jam
Two Roads Bergamonster
Two Roads HoneySpot
Dog Pops
Our dog pops are made with beef stock, dog biscuit crumbles, and blended peanut butter. The stick is made from Earth Animal No Hide Chicken or Beef Stick. http://www.earthanimal.com/